Wait! Did Mark Lassoff Just Say You Don't Have to Learn to Code?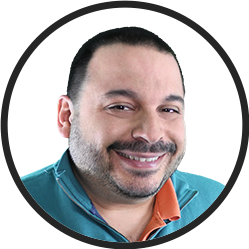 "Heavy duty coding is not for everybody!"
There. I said it.
It's ok! I'm telling you this as a guy who eats, sleeps and breathes software development. I've taught coding for over a decade and while many love it, others aren't so enthusiastic.
But not being a heavy duty coder doesn't mean there isn't a place for you in the development industry.
I developed this program for you: The person who wants to work in web or mobile development, but doesn't want to spend their day writing code.
The program is called Certified Digital Content Professional.
What is a Digital Content Management Professional?
Glad you asked.

Digital content management professionals manage all of the content that appears in digital form. That's everything you see on a web site, mobile site or application. It can include video, audio and other forms of content.
Digital Content Manager according to Marketing-Schools.org
Digital content managers publish web content and keep it up to date. Small changes to a website can wreak havoc on that site's content, as articles or links are moved and broken. Digital content managers keep a site running smoothly, while also tracking data about where users are clicking, how long they stay on a site, and other data points that drive marketing efforts.

If we unpack these definitions, it looks like there are three distinct areas that "Digital Content Management" covers. They are depicted in the Venn diagram below: (Don't you love a good Venn diagram?)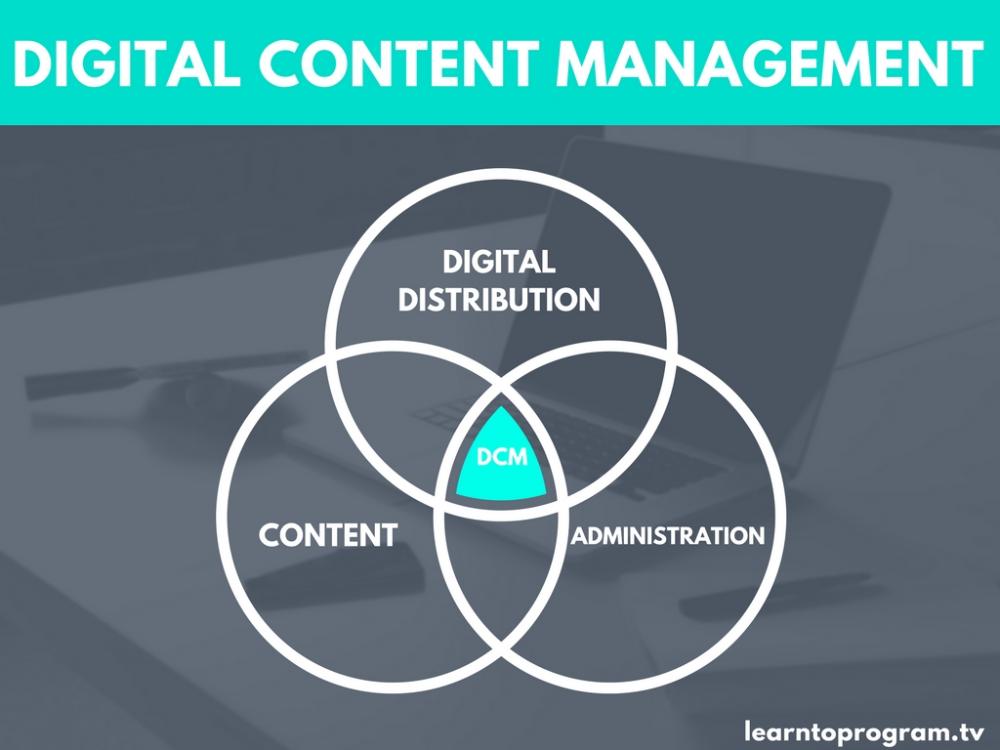 Let's look at each area a bit more closely:
Digital Distribution
Digital Distribution is the distribution of content via electronic (computer mediated) means. There are a number of channels for digital distribution that you likely interact with daily, but hardly think about. Some of these overlap, but, here's a partial list:
The World Wide Web (Probably the primary and most important distribution channel)
Mobile Apps
On Demand Video (Like Netflix, Amazon Prime Video or a channel on a Roku device). YouTube is the "king" of on-demand video
Television Based Apps (The apps that come on a Roku, Apple TV or embedded in your TV's operating System)
Digital Magazines (Do you still read the printed kind?

LearnToProgram Magazine

is distributed on the web, Android and iOS devices).
"Kindle" Books. (Kindle is so good that "Kindle" became the generic name for an electronic book...Even though there are other brands).
Streaming Video (Like Cable, Twitch (where your kids are watching other people play video games).
Video games themselves
Streaming music services. (I don't own any media any more because I stream all my music).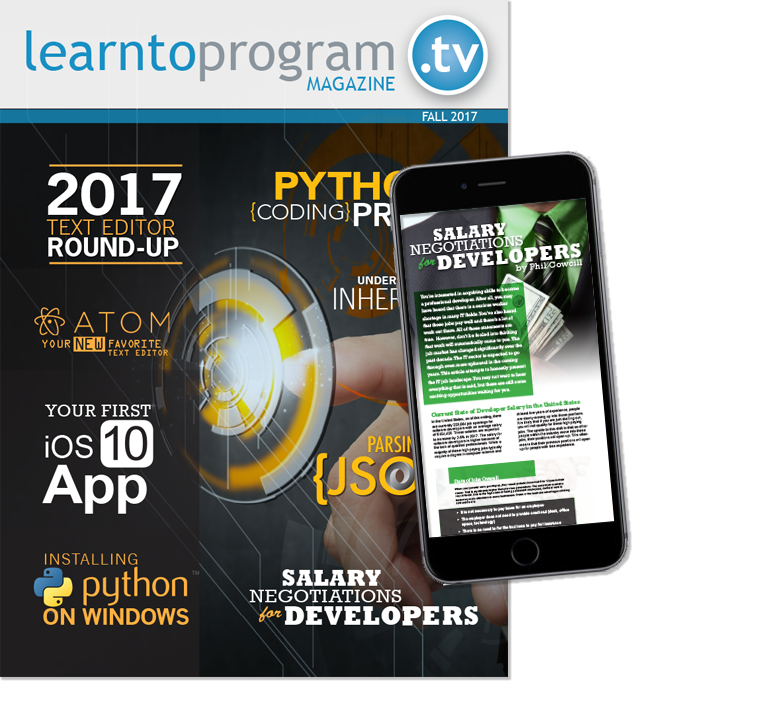 A professional digital content manager has to have an awareness of all the different ways to distribute content.

Many times, companies want to maximize the "bang for their content buck" which means that the same or closely related content might be distributed to multiple channels.

Content
In the digital world content is the "stuff."

Wikipedia states content is the "information and experiences that are directed towards an end-user or audience."

I think the latter part of the Wikipedia definition is the important part. Content is just video, or copy, or audio unless it's directed towards a particular audience. At LearnToProgram, we create content that is directed towards career changers who are interested in picking up digital (web development, mobile, etc...) as a career.

This is where marketing often overlaps the Digital Content Management field. Content that is developed and electronically distributed is often aimed to some external audience for a commercial purpose.
Administration
Like everything else in media, online channels need to be curated and administrated. Old and out of date content might need to be removed or modified. New content needs to be launched on a regular basis. Oftentimes a digital content manager might release new content on social channels to foster awareness and get an initial bump in views or readers.

It's just as likely that a digital content manager would need to track analytics of content that's being distributed through digital channels.

Setting and reporting benchmarks for successful distribution of content pieces often falls within the digital content managers purview.

Administrative activities might including setting up and configuring a content management system such as WordPress. Other DCM's might need to be in touch with their creative side as they create images to accompany the distributed content.


Start a Digital Career without Heavy Coding
This course is designed to help you do one thing:
Start a career in web and mobile development (digital) without becoming a software developer.

Sounds impossible?
There are dozens of tools out today that make this possible. In this twelve week course, you're going to learn exactly how you can work in digital as a professional, but not spend your day coding.
Here's the thing....
Digital Content Management Professionals are Generalists. They know about content management systems like Wordpress. WordPress has been around for over a decade now. It's roots are as a blogging platform-- And it was a good one. Over the years an ecosystem around Wordpress grew and plugins and extensions were written to extend the functionality of the original WordPress platform.
There are many other additional tools that DCM professionals use. These include:

Image editors like Photoshop
Video editing tools like Premier
Audio Editing Tools
Asset Management Tools
The vastness of the DCM role prevents us from experimenting with all types of tolls here, but, as your DCM career continues you'll build your own slate of favorite tools you use to create and manage content.
This course goes over exactly what you need to know to be creating and managing big time sites as a professional Digital Content Manager.
But there's more too it than that.
Unlike your industry competition, you're going to be certified.
You'll be a Recognized, Certified, Professional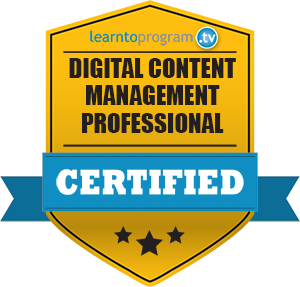 How do you prove you know what you now as a new digital professional?
How will you separate yourself from all of the others trying to break in?
The answer is simple: Certification.
The Certified Digital Content Management Professional program offers you a recognized certification once you complete the course and pass our online certification exam.
And, this certification is a lot more than a paper certificate you can hang above your desk. This certification is validated by Credential.net, meaning the cert will appear on your linked in account, and you'll have your own special confirmation page so that a potential employer can assess exactly what you have learned.